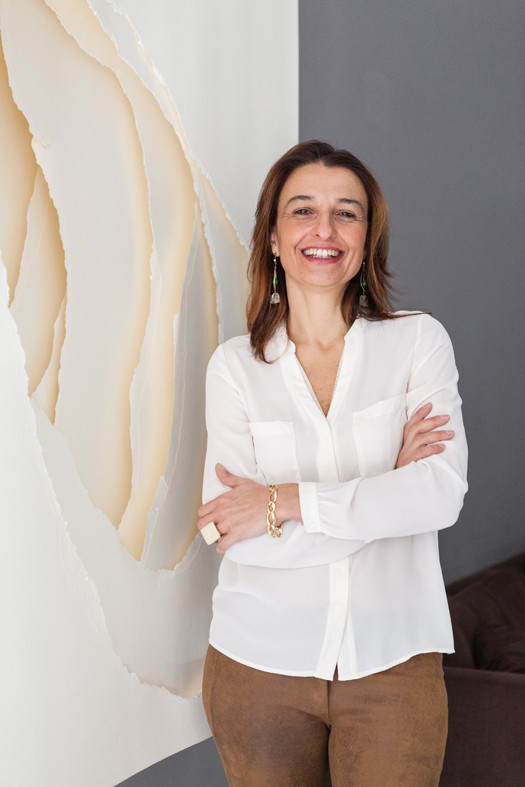 The Architect and designer Francesca Cutini Roveda was born in Perugia and now she lives and works in Milan.
Owner of the architectural firm StudioDodici, she has carried out a considerable series of projects in Italy and abroad. For many years she has been involved in the design, renovation and furnishings of villas, farmhouses, apartments, restaurants, hotels and shops.
After the graduation, she started working as stylist and interior designer for important furniture magazines, then in 2004 she decided to found, together with many collaborators, a studio that would develop the world of design at 360°: luxury private homes, mountain chalets, historic apartments in Milan, lofts, offices for important professional firms, for fashion, finance and insurance companies.
Her works, situated in Milan, Paris, London, Ibiza, Switzerland, Puglia and Umbria, range from interior decoration to the architectural renovation of buildings. For international works she takes on engineering firms in Switzerland and Umbria.
She loves to work in stages, starting from the drafting of the mood and the project, and then move on to the definition of the executives drawings and the supervision of building sites. Always cost conscious, she pays a lot of attention to the drafting of detailed metric calculations, to the presentation of municipal practices and to the testing of each work with the presentation of the final document. She follows the customer in every phases, up to the choice of furnishings, lamps and fabrics. The attention to detail and the constant research of all trends have always been the focuses of her projects which, over the years, have identified themselves in an unequivocal, unique and precise style. Her style is always current. Tradition, innovation and bio-climatic comfort, research of natural materials, these are the leitmotif of the entire activity of the studio, which pays attention to the current issues of safeguarding the planet by using eco-sustainable and recyclable materials, such as non-plastic materials. Her works have been published in the most important Italian and international magazines.
ARCHITECTS: Lara Fabbian, Ilaria Cassina, Anna Mantero
BUILDING SURVEYOR: Emanuele Antonini
CONTRIBUTORS: Alessandro Sesini, Luca Naccari, Tiziano Zerlatini
SOCIAL MEDIA MANAGER: Rosi Geraci